Questions and answers
Maps
Maps are beautiful design objects, suitable for every home. But how do you find the right map?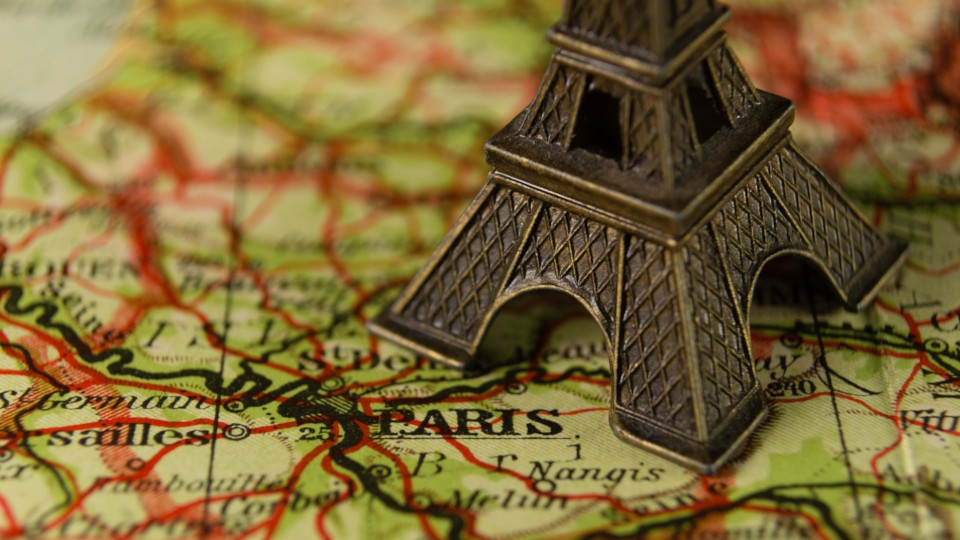 What are the different types of maps that are available, and what are the differences between them?
Antique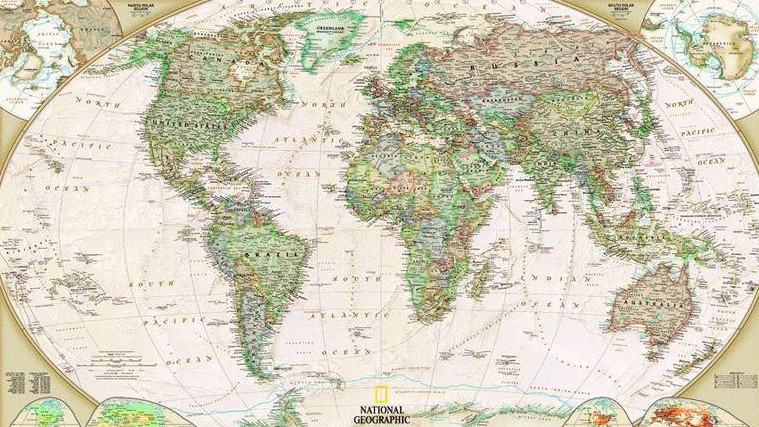 An antique map refers to an old, more or less true to the original cartographic representation. In our shop you will find maps that are up to date as things stand now, but are designed and produced in an antique look. Our shop currently stocks only reproductions of old maps as well as antique-effect maps, and no original antique maps.
Kinderkarte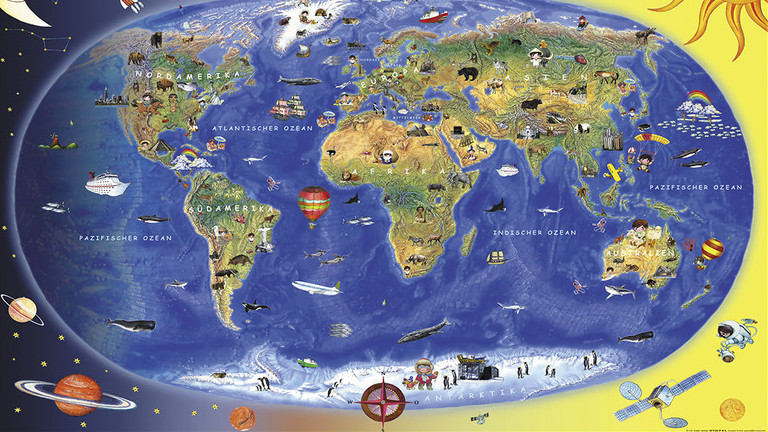 A children's map is a special type of map. This is a map designed especially for children. It is usually brightly coloured and often colourfully illustrated. In this way, compelling pictures can explain the planet even to the youngest children.
Political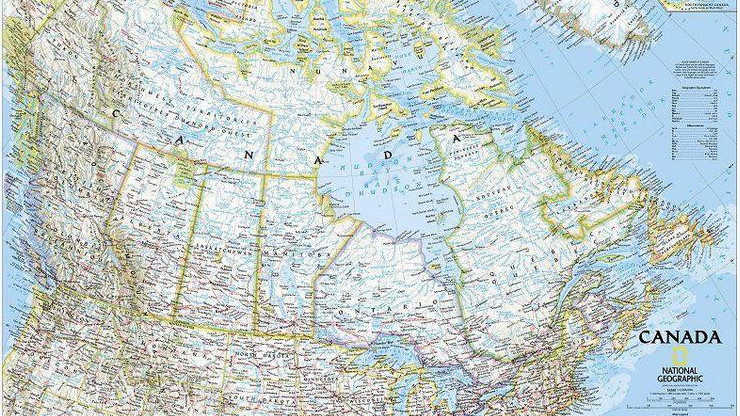 A political map shows the political structure of the world as of the date of publication of the map or globe. States and their borders are usually represented by different colours, and capitals and the states themselves are clearly named.
Physical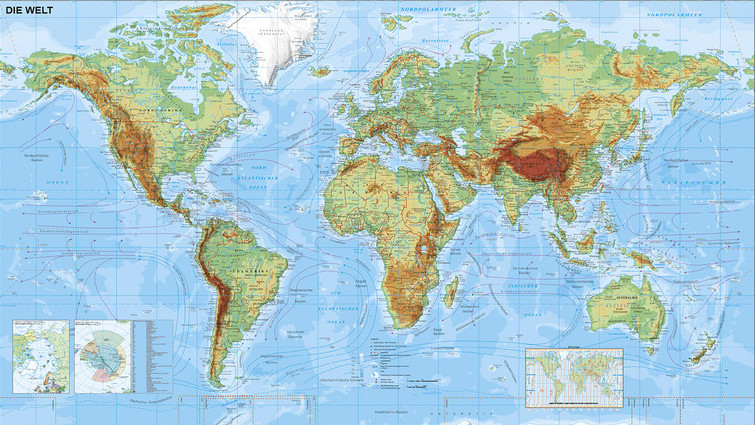 A physical map generally shows the structure of the surface of the Earth, either using colour shading (depicting height and depth) or with the aid of graphical relief shading in grey or coloured tones.
Satellite image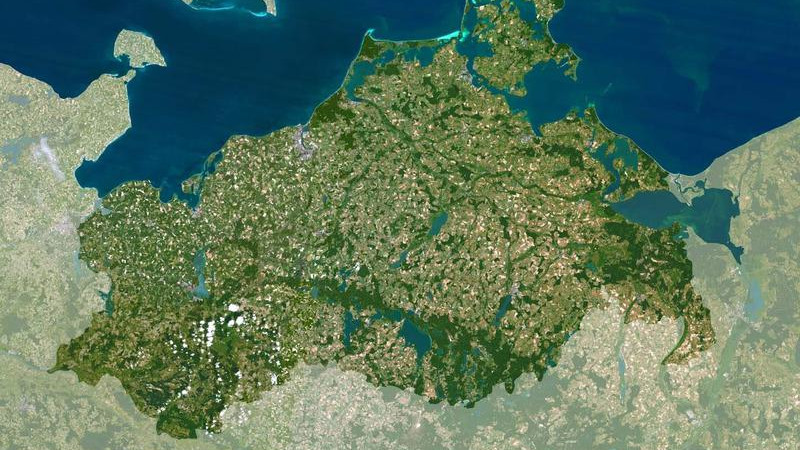 A satellite image is a digital, photographic image of the Earth or parts thereof. Satellite images are produced by sensors installed on satellite platforms.
Stumm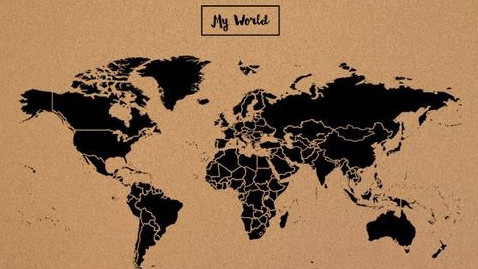 A mute map is a map for training or planning purposes, which is created without labelling. On it you will find, for example, only the outlines of the continents, national boundaries or other administrative borders, and for orientation purposes, important traffic routes, rivers or cities are often marked.
Vegetation map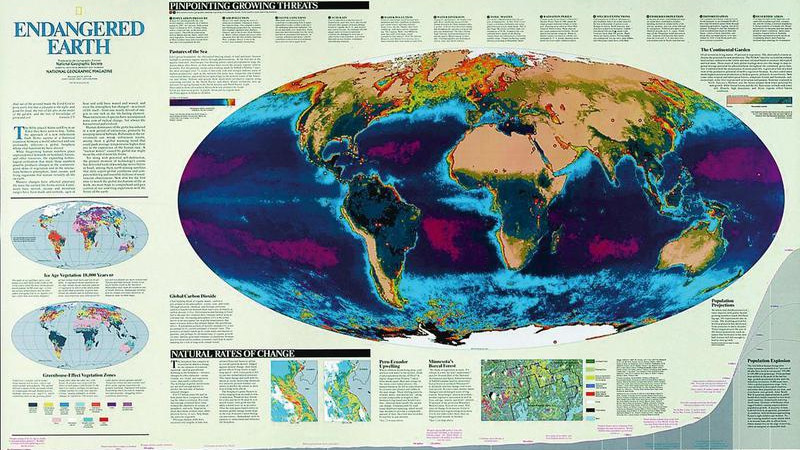 In a vegetation map, the vegetation zones of the Earth's surface are represented, usually using coloured areas. In combination with elements of a physical map, for example relief shading, you get an extremely vivid and very detailed map.
What are the different themes available for maps of the world?
Europe centred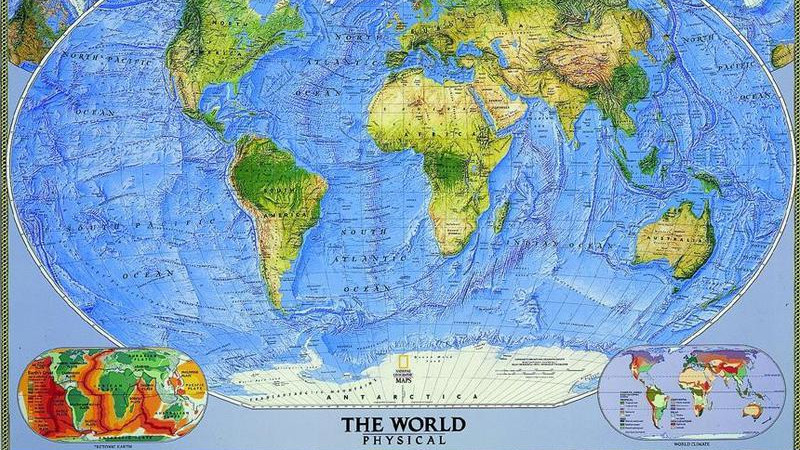 Here, the continent of Europe is positioned in the centre of the map.
Hemispheres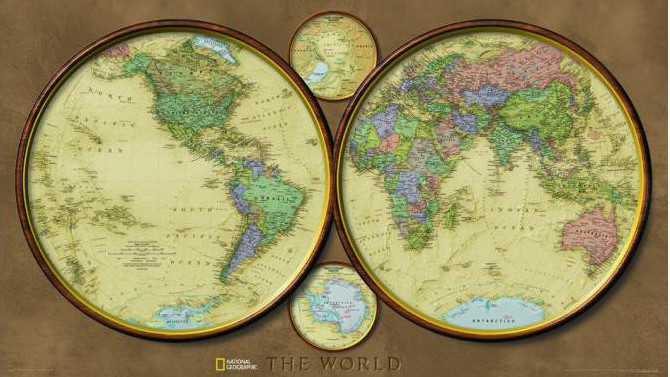 Hemisphere maps are also known as planiglobes. This is the representation of each of the Earth's hemispheres in a circular form. The entire surface of the globe is represented by two adjacent circular maps. The two hemisphere images show a continuous equator and a linear central meridian.
Pacific centred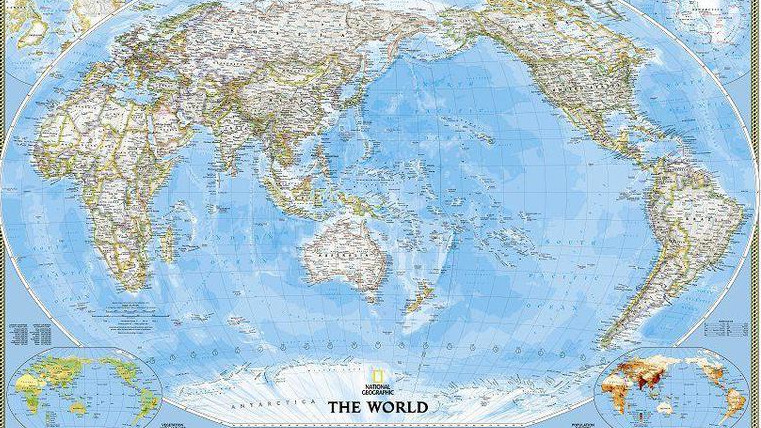 Here, the Pacific Ocean is in the centre of the world map.
Further questions
What does information density mean?
The information density of a map describes the amount and level of detail of the information contained therein. This mainly refers to the amount and level of detail of geographical and political information.
Examples of the density of political information are:
International & provincial borders
Countries, provinces, federal states, capitals cities and major cities
Depiction of time zones
Prevailing winds and sea currents
Topographic shading
International airports
Degrees of latitude and longitude
Extra illustrations of the regions of the North and South Poles, as well as vegetation and land use and world population density
Examples of the density of physical information are:
Extensive oceanographic information such as the designation of deep-sea trenches and basins, reliefs
Mountain ranges and elevations
Topographic shading
Plate tectonics
Degrees of latitude and longitude
The higher the information density of a map, the more extensive the information and data contained therein.
What are postcode & administrative maps?
Postcode & administrative maps are used to organise specific tasks. The focus of these maps is on the depiction of administrative units, public institutions and organisations. Typical units are, for example, federal states, electoral boundaries, administrative districts, postcode areas, etc. Typical tasks that are carried out and organised using an administrative map include, for example, the segmentation of sales areas, marketing campaign planning, and the set-up of logistics processes.
What is a laminated map?
Lamination is a process to finish and preserve maps. The map is covered, either on one side or both, with a transparent plastic film and sealed. As a result, the laminated or coated map is splash-resistant and, depending on the film material, can be written on and wiped clean. In addition, the incorporated map is more stable. Lamination is generally used for wall-hung or poster maps, or for use outdoors. You will find more information on map finishes in our service pages.