Glossary | Globes | Special features | Hand laminated
Globes, where which the map image is applied by hand.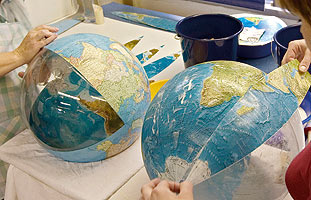 Picture: Columbus Verlag
In the case of laminated globes, the map image is divided into 12 segments and attached by hand.
Globes manufactured according to this artisan tradition have a particularly brilliant map image with the highest level of detail, which cannot be achieved with other printing methods.
This very special craftsmanship is practised by only a handful of manufacturers.